HOME >> 海外出版社刊 洋書販売 新着書籍 >>
Advances in Small Animal Care 2022, 1E [PRINT ON DEMAND]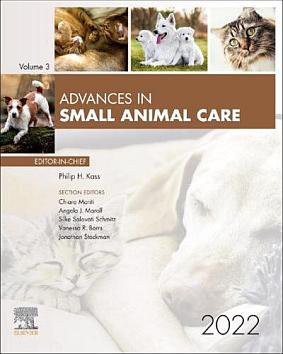 価格:19,690円 (本体 17,900円+税) 送料サービス
・Release: 2022
・ISBN: 9780323849777
・240 Pages
・Trim Size: -
Description
Advances in Small Animal Care reviews the year's most important findings and updates within the field in order to provide veterinarians with the current clinical information they need to improve patient outcomes. A distinguished editorial board, led by Dr. Philip H. Kass, identifies key areas of major progress and controversy and invites preeminent specialists to contribute original articles devoted to these topics. These insightful overviews in small animal care inform and enhance clinical practice by bringing concepts to a clinical level and exploring their everyday impact on patient care.
Key Features
Contains 17 articles on such topics as the use of semiochemicals in pet animals: from prevention to treatment of behavioral problems; advanced cardiac and pancreatic imaging; probiotics in GI diseases of dogs and cats; emerging and re-emerging vector-borne diseases; optimal growth and obesity prevention; and more.
Provides in-depth, clinical reviews in small animal care, providing actionable insights for clinical practice.
Presents the latest information in the field under the leadership of an experienced editorial team. Authors synthesize and distill the latest research and practice guidelines to create these timely topic-based reviews.
Table Of Contents
Factors to Consider when Selecting Puppies and Preventing Later Behavioral Problems
Feline Behavioral Medicine - An Important Veterinary Discipline
DIAGNOSTIC IMAGING Cardiac Computed Tomography Imaging
Peripheral Concentration of Amyloid-b, TAU Protein, and Neurofilament Light Chain as Markers of Cognitive Dysfunction Syndrome in Senior Dogs: A Meta-analysis
Advanced Imaging of the Pancreas
Update on Magnetic Resonance Imaging of the Brain and Spine
Modifying the Gut Microbiota - An Update on the Evidence for Dietary Interventions, Probiotics, and Fecal Microbiota Transplantation in Chronic Gastrointestinal Diseases of Dogs and Cats
Challenges in Differentiating Chronic Enteropathy from Low-Grade Gastrointestinal T-cell Lymphoma in Cats
Nutrition in Canine and Feline Gastrointestinal Disease
Update on Acute Hemorrhagic Diarrhea Syndrome in Dogs
Feline Immunodeficiency Virus: Current Knowledge and Future Directions
Diagnostic Testing for Infectious Respiratory Tract Disease
Canine Leptospirosis - Global Distribution, Diagnosis, and Treatment
Nutritional Management of Acute Pancreatitis
Creating a Weight Loss Plan with Owner Engagement