HOME >> 海外出版社刊 洋書販売 新着書籍 >>
Small Animal Orthopedic Medicine, An Issue of Veterinary Clinics of North America: Small Animal Practice, 1E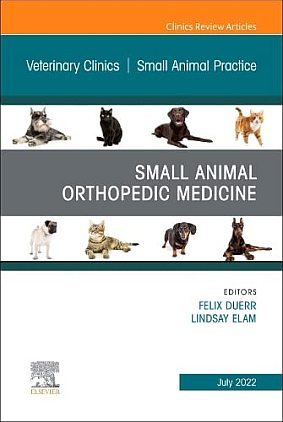 Elsevier
| | | |
| --- | --- | --- |
| Editor | : | Felix Duerr / Lindsay Elam |
価格:14,630円 (本体 13,300円+税) 送料サービス
・Release: 2022
・ISBN: 9780323987950
・240 Pages
・Trim Size: 165.1 X 19.1 X 241.3
Description
In this issue of Veterinary Clinics: Small Animal Practice, guest editors Drs. Felix Duerr and Lindsay Elam bring their considerable expertise to the topic of Small Animal Orthopedic Medicine. Mobility and orthopedic challenges are common issues that can negatively impact the quality of life and overall health of small animal companion pets. This issue covers a wide range of topics to help practicing veterinarians identify, assess, treat, and manage orthopedic and mobility issues in pets.
Key Features
Contains 15 relevant, practice-oriented topics including canine mobility maintenance and promotion of a healthy lifestyle; joint injection techniques and indications; platelet-rich plasma as an orthobiologic: physical rehabilitation; and more.
Provides in-depth clinical reviews on small animal orthopedic medicine, offering actionable insights for clinical practice.
Presents the latest information on this timely, focused topic under the leadership of experienced editors in the field. Authors synthesize and distill the latest research and practice guidelines to create clinically significant, topic-based reviews.
Table of contents
Canine Comprehensive Mobility Assessment
Objective Gait Analysis: Review and Clinical Applications
Orthopedic Imaging: A Practical Clinical Guide
Canine Mobility Maintenance and Promotion of a Healthy Lifestyle
Evidence-Based Complementary and Alternative Canine Orthopedic Medicine
Clinical Guide to Obesity and Nonherbal Nutraceuticals in Canine Orthopedic Conditions
Joint Injection Techniques and Indications
Intra-articular Injectates: What to Use and Why
Platelet-Rich Plasma as an Orthobiologic: Clinically Relevant Considerations
Physical Rehabilitation for Small Animals
Guidelines to Home Exercises and Lifestyle Modifications for Common Small Animal Orthopedic Conditions
Extracorporeal Shockwave Therapy for Musculoskeletal Pathologies
Conditioning Dogs for an Active Lifestyle
Economic and Clinical Benefits of Orthopedic/Sports Medicine and Rehabilitation