HOME >> 海外出版社刊 洋書販売 新着書籍 >>
Large Animal Medicine for Veterinary Technicians, 2E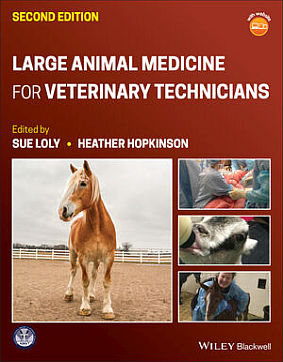 Wiley-Blackwell
| | | |
| --- | --- | --- |
| Editor | : | Sue Loly / Heather Hopkinson |
価格:16,610円 (本体 15,100円+税) 送料サービス
・Release: 2022
・ISBN: 9781119688266
・544 Pages
・Trim Size: 215.9 X 22.9 X 274.3 ・Paperback
Description
Large Animal Medicine for Veterinary Technicians provides comprehensive guidance on caring for horses, cattle, camelids, small ruminants, pigs, and other farm animals. Reflecting the topics required by the American Veterinary Medical Association (AMVA), this practical resource covers hospital biosecurity, restraint, physical examinations, clinical and diagnostic procedures, reproduction, nutrition, disease, and more. Detailed chapters written by expert contributors contain numerous full-color images, clinical applications, self-review questions, and accurate, species-specific information.
The second edition features revised and new content throughout, including brand-new chapters on common surgical procedures and general anesthesia, dentistry, and popular hobby farm animals such as fowl, poultry, and pet pigs. Updated and expanded sections on neonatology, diagnostics, and imaging are supported by a wealth of new images and examples. Covering the skills and knowledge necessary for success in both Veterinary Technician Specialty (VTS) programs and in clinical practice, this must-have guide:
Offers new coverage of imaging and diagnostic technologies such as dynamic endoscoping and the use of treadmills
Contains more than 500 high-quality color images, multiple-choice questions with answers, and a glossary of terms
Features a range of pedagogical tools including learning objectives, clinical case problems, charts and diagrams, and "Technician Tip" boxes
Includes a significantly expanded companion website with self-review questions, case studies, PowerPoint slides, and an image bank to aid in breed identification
Authored and edited by experienced trainers and certified veterinary technicians, Large Animal Medicine for Veterinary Technicians, Second Edition is an invaluable reference for all students, educators, and working professionals in the field.