HOME >> 海外出版社刊 洋書販売 新着書籍 >>
Surgery of Exotic Animals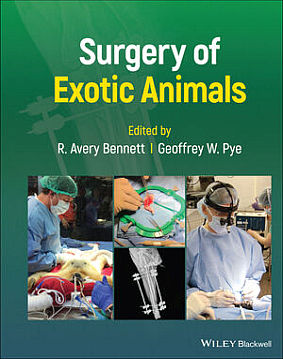 Wiley-Blackwell
| | | |
| --- | --- | --- |
| Editor | : | R. Avery Bennett / Geoffrey W. Pye |
価格:24,640円 (本体 22,400円+税) 送料サービス
・Release: 2022
・ISBN: 9781119139584
・480 Pages
・Trim Size: 223.5 X 27.9 X 276.9
Description
Surgery of Exotic Animals
The first book to provide veterinarians with in-depth guidance on exotic animal surgical principles and techniques
As the popularity of exotic animals continues to grow, it is becoming increasingly important for veterinarians to be knowledgeable and skilled in common surgical procedures for a wide range of exotic species. Written for practitioners and board-certified surgeons with a working knowledge of domestic animal surgery, Surgery of Exotic Animals is the first clinical manual to provide comprehensive guidance on surgical principles and common procedures in exotic pets, zoo animals, and wildlife.
Edited by internationally recognized leaders in exotic animal surgery and zoological medicine, this much-needed volume covers invertebrates, fish, amphibians, reptiles, birds, and both terrestrial and marine mammals. Contributions from a team of surgery and zoo specialists offer detailed descriptions of common surgeries and provide a wealth of color images demonstrating how each procedure is performed—including regional anatomy and surgical approaches. An invaluable one-stop source of authoritative surgical information on exotic species, this book:
Provides illustrated guidance on surgical principles and common surgeries performed in exotic species
Describes general principles, instrumentation, equipment, suture materials, and magnification surgery
Covers a wide range of procedures such as small and large mammal dental surgery, avian soft tissue surgery, reptile orthopedic surgery, and primate surgery
Includes chapters on surgical oncology, megavertebrate laparoscopy, and minimally invasive surgery techniques
Surgery of Exotic Animals is an indispensable clinical guide and reference for all private veterinary practitioners; exotic, zoo, and wildlife veterinarians; laboratory animal veterinarians; veterinary students; and veterinary technicians.
Table of contents
Preface and Acknowledgments
R. Avery Bennett, DVM, MS, DACVS
Geoffrey W. Pye, BVSc, MSc, DACZM
Chapter 1: General Principles, Instruments, and Equipment
R. Avery Bennett, DVM, MS, DACVS
Chapter 2: Suture Materials
Michael S. McFadden, MS, DVM, DACVS-SA
Chapter 3: Magnification Surgery
Heidi Phillips, DVM, DACVS
Chapter 4: Invertebrate Surgery
Gregory A. Lewbart VMD, MS, DACZM, DECZM (ZHM)
Chapter 5: Fish Surgery
Claire Vergneau-Grosset, DVM, IPSAV, CES, DACZM
E. Scott Weber III, MSc., VMD, DACVPM, CertAqVet
Chapter 6: Amphibian Surgery
Claire Vergneau-Grosset, DVM, IPSAV, CES, DACZM
E. Scott Weber III, MSc., VMD, DACVPM, CertAqVet
Chapter 7: Reptile Orthopedic Surgery
Michael S. McFadden, MS, DVM, DACVS-SA
Chapter 8: Surgical Approaches to the Reptile Coelom
Geoffrey W. Pye, BVSc, MSc, DACZM
R. Avery Bennett, DVM, MS, DACVS
Chapter 9: Reptiles: Soft Tissue Surgery
Steve J. Mehler, DVM, DACVS
R. Avery Bennett, DVM, MS, DACVS
Chapter 10: Avian Orthopedics
Brett Darrow, DVM, DACVS, CCRP
R. Avery Bennett, DVM, MS, DACVS
Chapter 11: Approaches to the Caudal Coelom (Abdomen) of Birds
Michael B. Mison, DVM, DACVS
R. Avery Bennett, DVM, MS, DACVS
Chapter 12: Avian Reproductive Procedures
Steve J. Mehler, DVM, DACVS
R. Avery Bennett, DVM, MS, DACVS
Chapter 13: Surgery of the Avian Gastrointestinal Tract
Michael B. Mison, DVM, DACVS
R. Avery Bennett, DVM, MS, DACVS
Chapter 14: Surgery of the Avian Respiratory System and Cranial Coelom
Geoffrey W. Pye, BVSc, MSc, DACZM
Chapter 15: Minimally Invasive Surgery Techniques in Exotic Animals
Steve J. Mehler, DVM, DACVS
Chapter 16: Orthopedic Surgery in Small Mammals
Michael S. McFadden, MS, DVM, DACVS-SA
Chapter 17: Rabbit Soft Tissue Surgery
R. Avery Bennett, DVM, MS, DACVS
Chapter 18: Ferret Soft Tissue Surgery
Catriona MacPhail, DVM, PhD, DACVS
Chapter 19: Rodent Soft Tissue Surgery
R. Avery Bennett, DVM, MS, DACVS
Chapter 20: Soft Tissue Surgery in Hedgehogs
Daniel J. Duffy BVM&S (Hons.), MS, FHEA, MRCVS, DACVS-SA, DECVS
R. Avery Bennett, DVM, MS, Diplomate ACVS
Chapter 21: Surgery of the Sugar Glider
Geoffrey W. Pye, BVSc, MSc, DACZM
Chapter 22: Small Mammal Dental Surgery
Estella Böhmer. DVM, Dr. med vet,
Chapter 23: Large Mammal Dental Surgery
Allison D. Woody, DVM, DAVDC
David A. Fagan, DDS
James E. Oosterhuis, DVM
Chapter 24: Primate Surgery
Celia R. Valverde, DVM, DACVS
Elizabeth Bicknese DVM, MPVM, cVMA
Chapter 25: Marine Mammal Surgery
Jennifer L. Higgins, DVM, PhD
Carmen M. H. Colitz, DVM, PhD, MBA, DACVO, DCLOVE (hon)
Dean A. Hendrickson, DVM, MS, DACVS
Chapter 26: Megavertebrate Laparoscopy
Mark Stetter, DVM, DACZM
Dean Hendrickson, DVM, DACVS
Chapter 27: Zoo Animal Surgery
Geoffrey W. Pye, BVSc, MSc, DACZM
Chapter 28: Surgical Oncology in Exotics
Elizabeth A. Maxwell, DVM, MS, DACVS-SA, CVPP