HOME >> 海外出版社刊 洋書販売 新着書籍 >>
Complications in Equine Surgery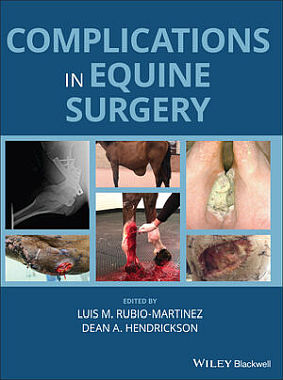 Wiley-Blackwell
| | | |
| --- | --- | --- |
| Editor | : | Luis M. Rubio-Martínez / Dean A. Hendrickson |
価格:32,780円 (本体 29,800円+税) 送料サービス
・Release: 2021
・ISBN: 9781119190073
・896 Pages
・Trim Size: 223.5 X 38.1 X 284.5 ・Hardcover
Description
Complications in Equine Surgery is the first reference to focus exclusively on understanding, preventing, recognizing, managing, and prognosing, technical and post-procedural complications in equine surgery. Edited by two noted experts on the topic, the book presents evidence-based information using a clear approach, organized by body system. Featuring color images, the book contains detailed coverage of the gastrointestinal, respiratory, musculoskeletal, urogenital, and neurological systems.
Each chapter contains a short introduction of the procedure with explanations of when and how the procedure is to be performed. All chapters review how to recognize and prevent technical complications and explain how to manage post-operative complications. This important text:
Offers the first resource specifically focused on complications encountered in equine surgery
Takes a helpful format organized by body system
Provides consistently formatted chapters for ease of use
Covers clinically relevant information for dealing with technical and post-operative complications
Presents more than 350 color images to illustrate the concepts described
Written for general practitioners and specialists, Complications in Equine Surgery is an essential resource to decreasing morbidity and mortality and increasing surgical success in horses.