HOME >> 海外出版社刊 洋書販売 新着書籍 >>
Tasks for the Veterinary Assistant, 4E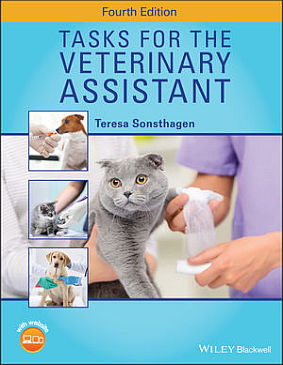 価格:11,440円 (本体 10,400円+税) 送料サービス
・Release: 2020
・ISBN: 9781119466826
・360 Pages
・Trim Size: 218 X 15 X 274 ・Spiral-bound paperback
Description
Tasks for the Veterinary Assistant is the definitive, practical guide to the vital skills and techniques used in daily practice—bringing together all the information necessary to succeed as a veterinary assistant in one reader-friendly volume.
Now in its fourth edition, this classic text has been completely revised to adopt a concise approach to learning that is ideally suited for modern readers. More and improved images, streamlined chapters, and easily-referenced key topics help readers understand the important aspects of real-world practice. Updated chapters cover infectious disease protocols, clinical procedures, and patient care and management. New chapters cover exam and treatment room skills, and present information on small animals, laboratory animals, and large animals. This re-envisioned new edition:
Covers every task and technique that veterinary assistants encounter daily
Offers step-by-step guidance for fundamental veterinary skills, procedures, and practices
Provides quick and easy reference to a comprehensive range of central topics
Uses a new, larger page size to better fit content and enhance searching for information when on the job
Includes access to a companion website presenting instructor resources, skills evaluations, and PowerPoint slides
Tasks for the Veterinary Assistant, Fourth Edition continues to be the definitive text for trainee and practicing veterinary assistants in clinical, laboratory, or research settings.