HOME >> 海外出版社刊 洋書販売 新着書籍 >>
August's Consultations in Feline Internal Medicine, Volume 7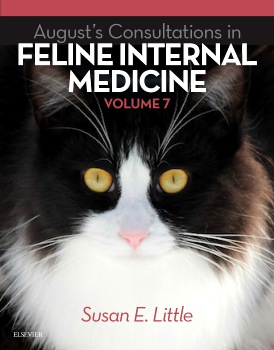 Stay current with cutting-edge information from the leading feline experts! August's Consultations in Feline Internal Medicine, Volume 7 takes the popular Current Therapy approach to the latest issues, advances, and therapies in feline care. The 103 new chapters are organized by body systems, making information easy to access, and include more than 800 new detailed photographs, diagrams, and MRI and ultrasound images. Discussions of scientific findings always emphasize clinical relevance and practical application. This edition addresses new topics ranging from feline obesity and food allergies to respiratory mycoplasmal infections. From feline expert Susan Little, with chapters written by more than 130 international specialists, this practical resource will be an invaluable addition to every small animal clinician's library.
New to This Edition
・

103 ALL-NEW chapters reflect the latest findings, reports, and evidence-based coverage of pressing topics such as:

・Managing respiratory mycoplasmal infections
・Continuous glucose monitoring in cats with diabetes
・Feline food allergy
・Stem cell therapy for chronic kidney disease
・Feline idiopathic cystitis
・Electrochemotherapy
・Current concepts in preventing and managing obesity
・Recognition and treatment of hypertensive crises
・Feline social behavior and personality
・

NEW

Emergency and Critical Care Medicine

section

contains 13 chapters covering complicated and serious internal medical problems.
・

NEW! More than 800 colorful new images

clarify concepts and demonstrate clinical examples.
Key Features
・

The

Current Therapy

format

focuses on the latest advances in feline care and includes broad, traditional, and controversial subjects of real clinical importance.
・

Clinically relevant approach

is supported with scientific research and promotes practical, progressive clinical management.
・

More than 130 world-renowned contributors

provide expert insight across the full spectrum of feline internal medicine.
・

Extensive references

make it easy to find additional information about specific topics most important to your practice.