HOME >> 海外出版社刊 洋書販売 新着書籍 >>
Human and Animal Filariases: Landscape, Challenges, and Control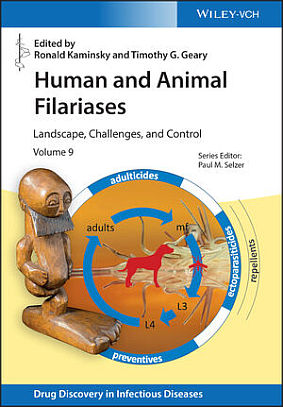 Wiley-VCH
| | | |
| --- | --- | --- |
| Editor | : | Ronald Kaminsky / Timothy G. Geary |
| Series Editor | : | Paul M. Selzer |
価格:33,440円 (本体 30,400円+税) 送料サービス
・Release: 2022
・ISBN: 9783527346592
・656 Pages
・Trim Size: 170 X 36.8 X 244 ・Hardcover
Description
Human and Animal Filariases
The rational approach to controlling human and animal diseases caused by nematodes
Filariae are a family of parasitic worms which infect animals and humans, causing severe diseases such as elephantiasis (lymphatic filariasis) and river blindness (onchocerciasis) in humans, as well as heartworm disease (dirofilariasis) in dogs and cats. While the human diseases are rarely fatal, the blindness and disfiguration resulting from these infections constitute a severe burden for the affected individuals and to the healthcare systems in many tropical countries. In 2017, the World Health Organization classified several filariases as neglected tropical diseases and announced a new program seeking to eradicate these infections, which has in turn sparked a new push to develop antifilarial drugs.
Considering the current and future import of this topic, Human and Animal Filariases takes a comprehensive look at infections by filarial parasites in humans and in animals. It begins by reviewing the current state of diagnosis and chemotherapy, before addressing the increasing resistance to available antifilarial drugs. This is followed by strategies and approaches for the discovery of novel drugs and finally by looking at alternative and supplementary approaches to combat the parasites, including vector control and vaccination.
Human and Animal Filariases readers will find:
A comprehensive approach that integrates current chemotherapy with recent advances in antifilarial drug discovery
Practical information on assay development, target validation, and required drug product profiles
Insights from global experts from leading academic institutions as well as from pharma and healthcare companies
Human and Animal Filariases is a unique reference for parasitologists, veterinarians, as well as professionals in the pharmaceutical industry and in public health agencies.
Table of contents
PART I: Background, Status and Gaps
Filariae as organisms (including life cycles)
Human filariasis - disease and current problems
Canine filariasis (heartworm) - disease and current problems/gaps
diagnosis of human filarial infections
diagnosis of canine filarial infections
Antifilarial chemotherapy: current options (human section)
Antifilarial chemotherapy: current options (veterinary section)
Current products
Current antifilarial drug - mode of action
Drug resistance in canine filarial chemotherapy
Eradication/elimination of human filariae
The economic impact of human filariasis
The economic impact of canine filariasis
PART II: Antifilarial Drug Discovery and Development
Product profiles of new antifilarial drugs -
Discovery and development of new antifilarial drugs (in vitro assays)
Rodent models for the discovery of new antifilarial drugs
Discovery and development of new canine antifilarial drugs (in vivo assays)
Discovery and development of new human antifilarial drugs (in vivo assays)
The drug pipeline, including triple combination therapy, moxidectin, emodepside, TylaMac, auranofin
PART III: Alternative Approaches
Functional genomics of filariae
Vector control approaches: humans
Vector control approaches: canine
Drug targets at the host-parasite interface
Endosymbionts as targets
Vaccines: progress and prospects