HOME >> 海外出版社刊 洋書販売 新着書籍 >>
Veterinary Neuroanatomy and Clinical Neurology, 4E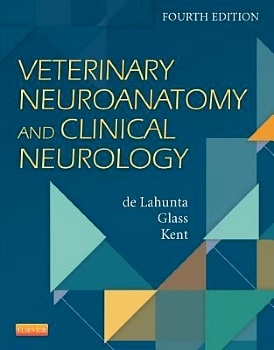 Covering the anatomy, physiology, and pathology of the nervous system, Veterinary Neuroanatomy and Clinical Neurology, 4th Edition helps you diagnose the location of neurologic lesions in small animals, horses, and food animals. Practical guidelines explain how to perform neurologic examinations, interpret examination results, and formulate effective treatment plans. Descriptions of neurologic disorders are accompanied by illustrations, radiographs, and clinical case examples with corresponding online video clips depicting the actual patient described in the text. Written by veterinary neuroanatomy and clinical neurology experts Alexander de Lahunta, Eric Glass, and Marc Kent, this resource is an essential tool in the diagnosis and treatment of neurologic disorders in the clinical setting.
New to This Edition
NEW! High-quality, state-of-the-art MR images

in the Neuroanatomy by Dissection chapter takes an atlas approach to presenting normal brain anatomy of the dog, filling a critical gap in the literature since Marcus Singer's The Brain of the Dog in Section.

NEW Uncontrolled Involuntary Skeletal Muscle Contractions chapter

provides new coverage of this movement disorder.

NEW case descriptions

offer additional practice in working your way through real-life scenarios to reach an accurate diagnosis and an effective treatment plan for neurologic disorders.

NEW! A detailed Video Table of Contents

in the front of the book makes it easier to access the videos that correlate to case examples.